Darlington Upgrade Project

---
Ayliffes Road: Darlington's largest bridge installation
8pm Friday 7 September - 6am Monday 10 September 2018
---
As part of the Darlington Upgrade Project, eight bridges are being constructed to improve connectivity and traffic flow in the area.
The Ayliffes Road Bridge is currently being constructed in the centre of Main South Road. This bridge will be located at the intersection of Ayliffes, South and Shepherds Hill Roads, and will carry northbound traffic from Main South Road.
For further information please click here.
---
Explore our interactive map to see what's happening locally
Click or tap on the Project news panel and dots to see how the new roads and bridges are taking shape – and learn what this project means to our community. We will be adding more dots during the next few months, so keep exploring...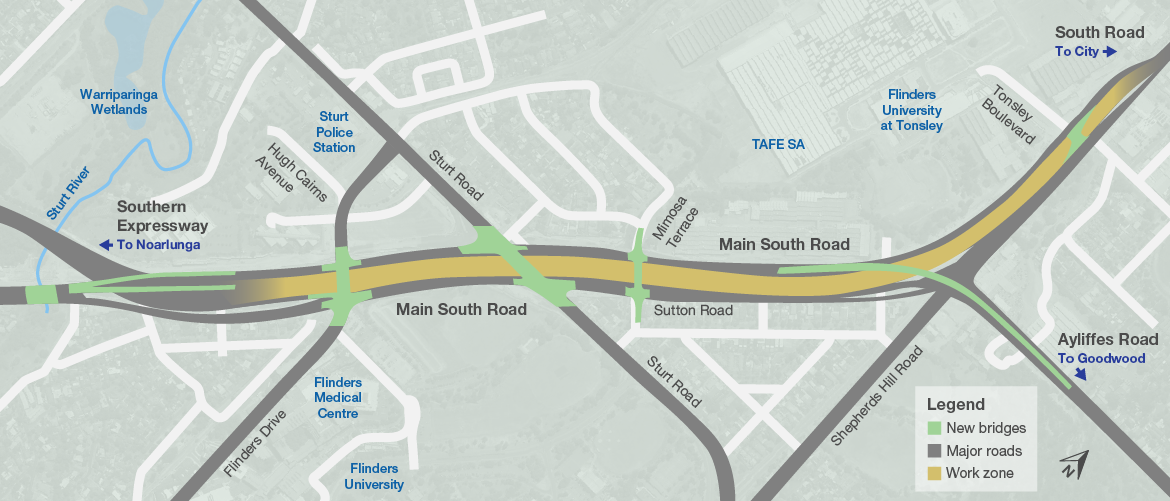 Community
People
Projects
Click the icons on the map for project information
First major bridge installation using SPMTs
As an Australian-first, the Darlington Upgrade Project's first major bridge was successfully transported into place using "self-propelled modular transporters". Installation was completed well ahead of schedule.
Flinders Drive bridge construction
The Flinders Drive bridge is being constructed using the "top down" method. Once construction is complete at road surface level, traffic will be switched onto the new bridge before excavation begins to create the lowered motorway. Learn more...

Cyclist and pedestrian access to be improved
Separated, two-way cycling paths and footpaths along both sides of the corridor, where space allows, will enhance linkages for pedestrians and cyclists accessing services, facilities and public transport as well as providing for cyclist commuters travelling through the area. Learn more...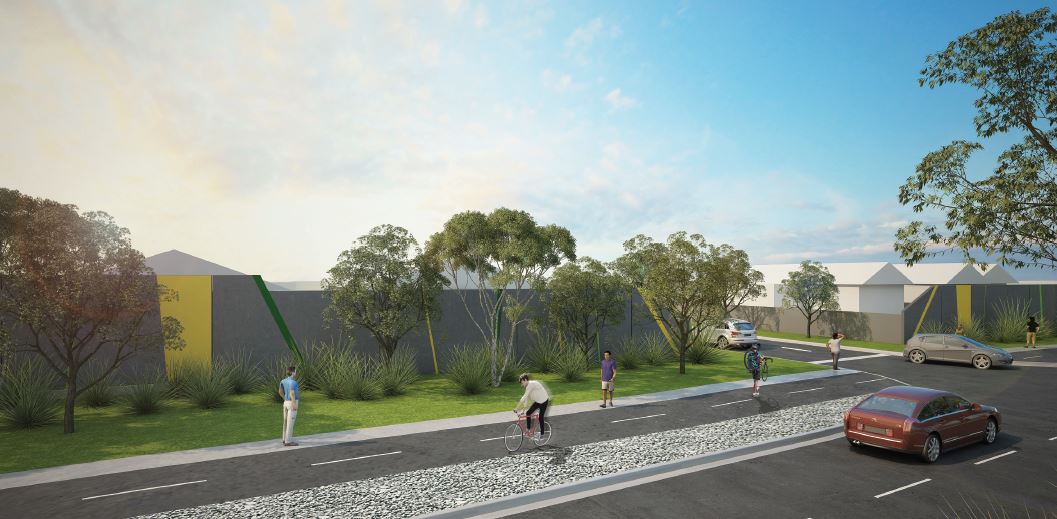 Thank you event for local community
The Darlington Upgrade Project team hosted a community outdoor cinema event at Warriparinga Wetlands as a thank you to the local community and stakeholders for their patience during construction. Around 150 people enjoyed a free sausage sizzle, popcorn and fauna nesting box workshops before the movie kicked off at sundown.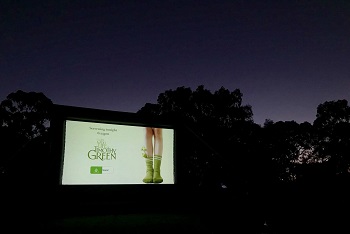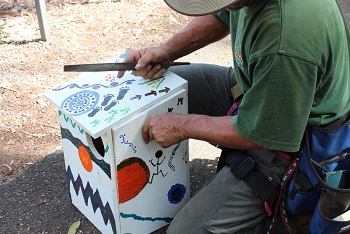 Local business involved in Australian-first
South Australian business, Bowhill Engineering, fabricated 10 bridge segments at its River Murray workshop to be used as part of the bridges over the Southern Expressway. These bridges were transported into place using "self-propelled modular transporters", an Australian first. Learn more...
Local students gain real life experience
After a close-up site tour, Pasadena High and TafeSA Civil Engineering students had the opportunity to hear from engineers and other members of the project team about becoming an engineer, innovation in the construction industry and what it's like to work on a major infrastructure project.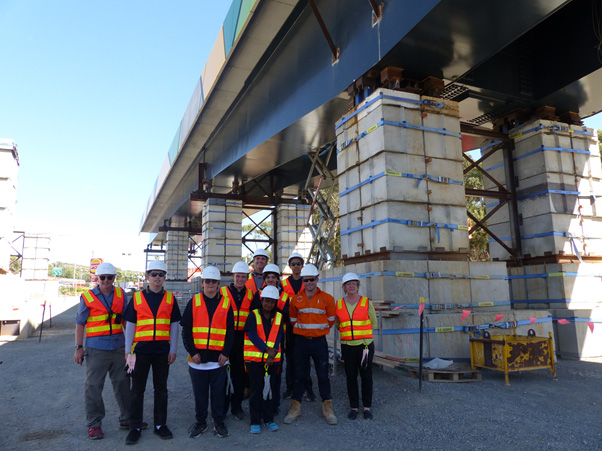 Major bridge installation - Main South Road and Southern Expressway
---
Major changes to traffic arrangements South Rd, St Marys September 2018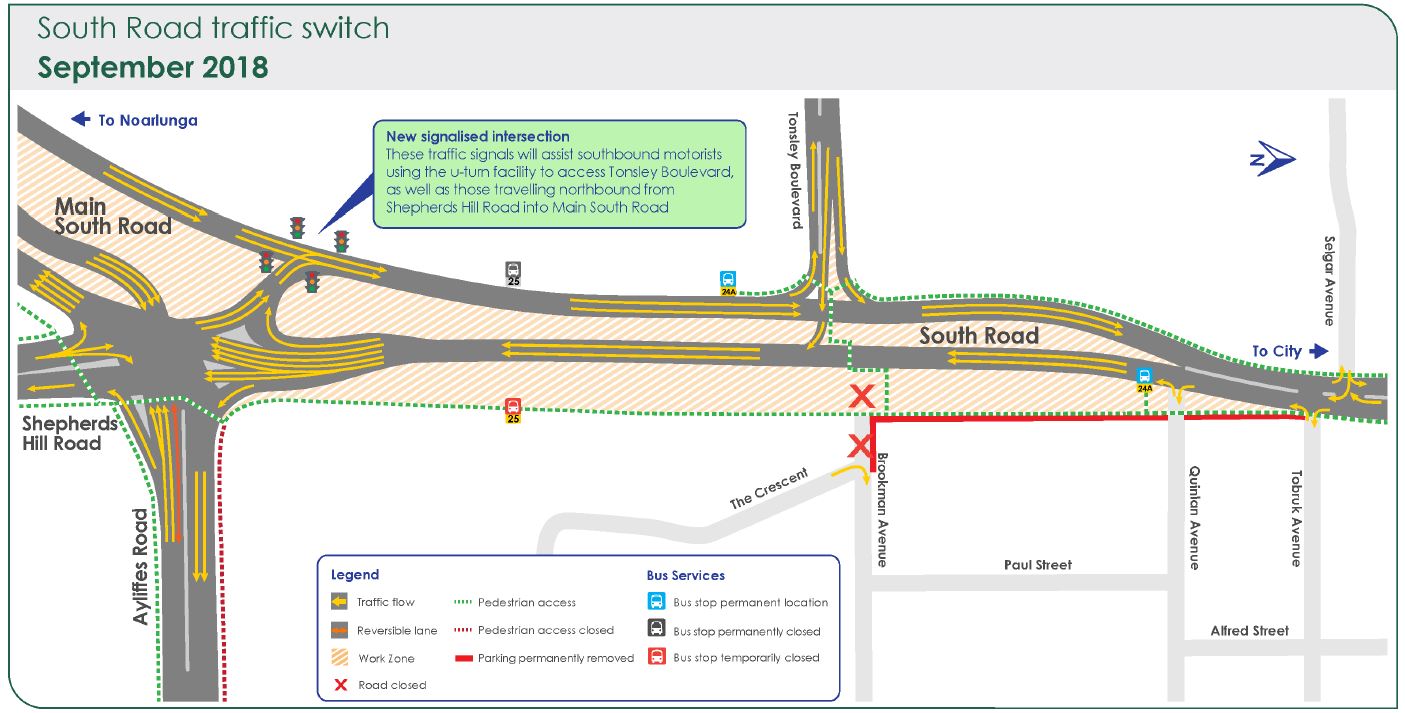 The Darlington Upgrade Project is being constructed in stages to ensure that traffic continues to flow efficiently through this important section of the North-South corridor.
A traffic switch is required on South Road, between Ayliffes Road and Tonsley Boulevard, St Marys, allowing the lowered motorway and Tonsley Boulevard bridge works to commence.
The switch will be undertaken in stages, with the first stage scheduled to occur from 8pm Tuesday 11 September until 6am Monday 12 September. For more information click here.
---
The Darlington Upgrade Project is another important stage in the delivery of Adelaide's North-South Corridor and will deliver an upgrade of approximately 3.3 kilometres of the existing Main South Road, including:
A non-stop motorway between the Southern Expressway and Tonsley Boulevard
A lowered, non-stop motorway passing underneath Flinders Drive, Sturt Road, Sutton Road/Mimosa Terrace and Tonsley Boulevard
Grade separation of the Main South Road/Ayliffes Road/Shepherds Hill Road intersection
Main South Road (at grade) surface roads along both sides of the lowered motorway to provide connections to Flinders Drive, Sturt Road and most local roads
Full free flow interchange at the Southern Expressway/Main South Road with dedicated ramps providing direct access to the new motorway and Main South Road
The $620 million project is jointly funded by Australian and State governments ($496 million federally funded and $124 million state funded). It is due to be completed in 2019.
---
---
---
Flinders Link
On 13 May 2016, the Australian and South Australian Governments announced funding for the $85 million Flinders Link Project. This project will include extending the existing Tonsley rail line to Flinders Medical Centre, creating new connections to the health precinct and Flinders University.